As the needs and challenges of the industrial welding industry continue to evolve, so too do the product offerings and training solutions at Soldamatic.
For example, there remains a global shortage of welders, while current training methods are inadequate for engaging the next generation of workers.
Similarly, traditional welding training programs cost several thousands of pounds and are highly inefficient, while the cost of delivering such programs continues to rise in line with the price of aluminum and other raw materials.
The question that remains, of course, is how does Soldamatic continue to evolve its products to meet these demands? Here's a glimpse at what's new with Soldamatic in 2023!
Improving Calibration and Hardware
Soldamatic's calibration describes the study of welding procedures in a real world environment, while different scenarios are used to create broad and informative datasets.
Such data is then input into Soldamatic's advanced software parameterisation, which is combined with hardware such as welding torches to deliver our training solutions and exercises.
We've enhanced both our software and hardware in 2023. In terms of calibration and parameterisation, we've incorporated even more authentic graphics while establishing a new real-time guide to help students learn and establish weld puddles.
Overall, Soldamatic records all data and training parameters in real-time, which helps to identify and correct errors either on site or immediately after the exercise has been completed.
Our new graphics are based on photorealism and physical rendering (PBR), while authentic shading and lighting models are used to better replicate real-world materials.
Our improved welding simulation also incorporates an enhanced weld arc, which contributes to a more realistic and educational TIG welding experience.
As for hardware, we've also introduced new advanced torches. These have had an additional camera installed at the tip of the torch, in order to show a fresh and insightful point of view for more complex tasks.
This helps to improve the accuracy of the training solution and the feedback provided to students, while icons have also been added to the simulation to provide greater detail and better detect faults.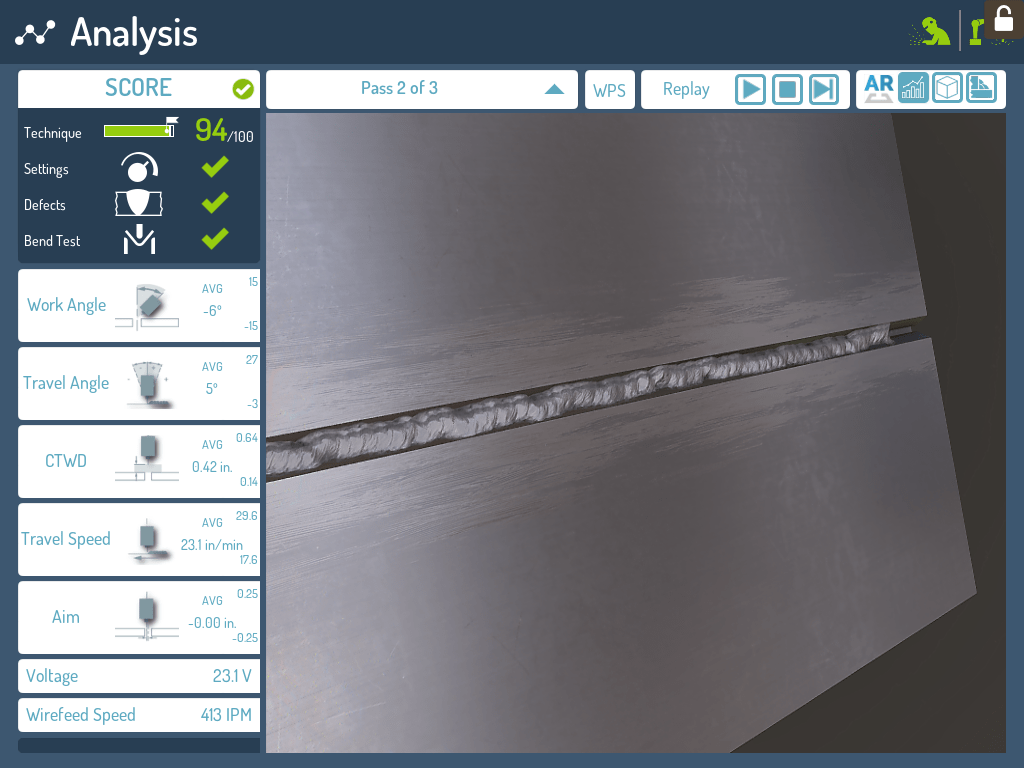 Superior Training and the Improved Development of Skills
With improved software and hardware, Soldamatic's solutions are able to offer a far greater level of insight and feedback to learners, who can subsequently benefit from more tailored and effective training.
To this end, our updated training modules will incorporate guided bend tests, which are commonly used to determine exactly how strong a particular weld is immediately after creation.
Our dedicated machines can perform accurate bends tests that measure resistance to specific angles, to ensure that the material can remain malleable without cracking.
This provides an acid test for welds, and can also deliver more accurate feedback as part of Soldamatic's advanced analysis mode (which has also been improved and updated for 2023).
For example, our 'cross section' highlights the technical parameters for evaluating manual skills and the measure of defects, while incorporating video replays and 3D views to analyze the training exercise in addition to the final results.
What else is new in 2023?
It's also interesting to note that we've invested in GTAW improvement so far in 2023, which allows for greater simulation of gas tungsten arc welding and the training experience offered to students.
These improvements include enhanced weld bead geometry and surface detail, while as we've already touched on, we've overhauled our weld puddle simulation for a more true-to-life TIG welding experience.
These improvements and changes help Soldamatic's offerings to keep pace with the needs of the industrial welding industry, where there remains a shortage of workers and a lack of engagement among the younger individuals who will form the next generation of welders.
Of course, we already offer the single most advanced and accurate welding training solution in nearly any scenario, with our patented algorithms comprising the parameterisation of millions of combinations in real workshops across the globe.
However, we've still taken steps to improve our software incrementally in 2023, while also making updates to our torches and hardware in order to enhance the practical learning experience as a whole.
As a result, Soldamatic has strengthened its position as the market leading training simulator, and one that's constantly looking to stay ahead of the curve while meeting the needs of the industry that it's looking to serve.