We change the way the world teaches and learns
Seabery Augmented Training
Designed with the objective to improve the learning processes – training, promotes the intensive practice, being dynamic and flexible because it allows to the teachers to easily manage the different courses with several students, regardless their level, learning rhythm and location.
Soldamatic E-learning
LMS (Learning Management System) application for the management and development of the course which allows to the teacher to create contents, manage the course, and control the evolution of the students, as well as the interaction between the teacher and student in real time.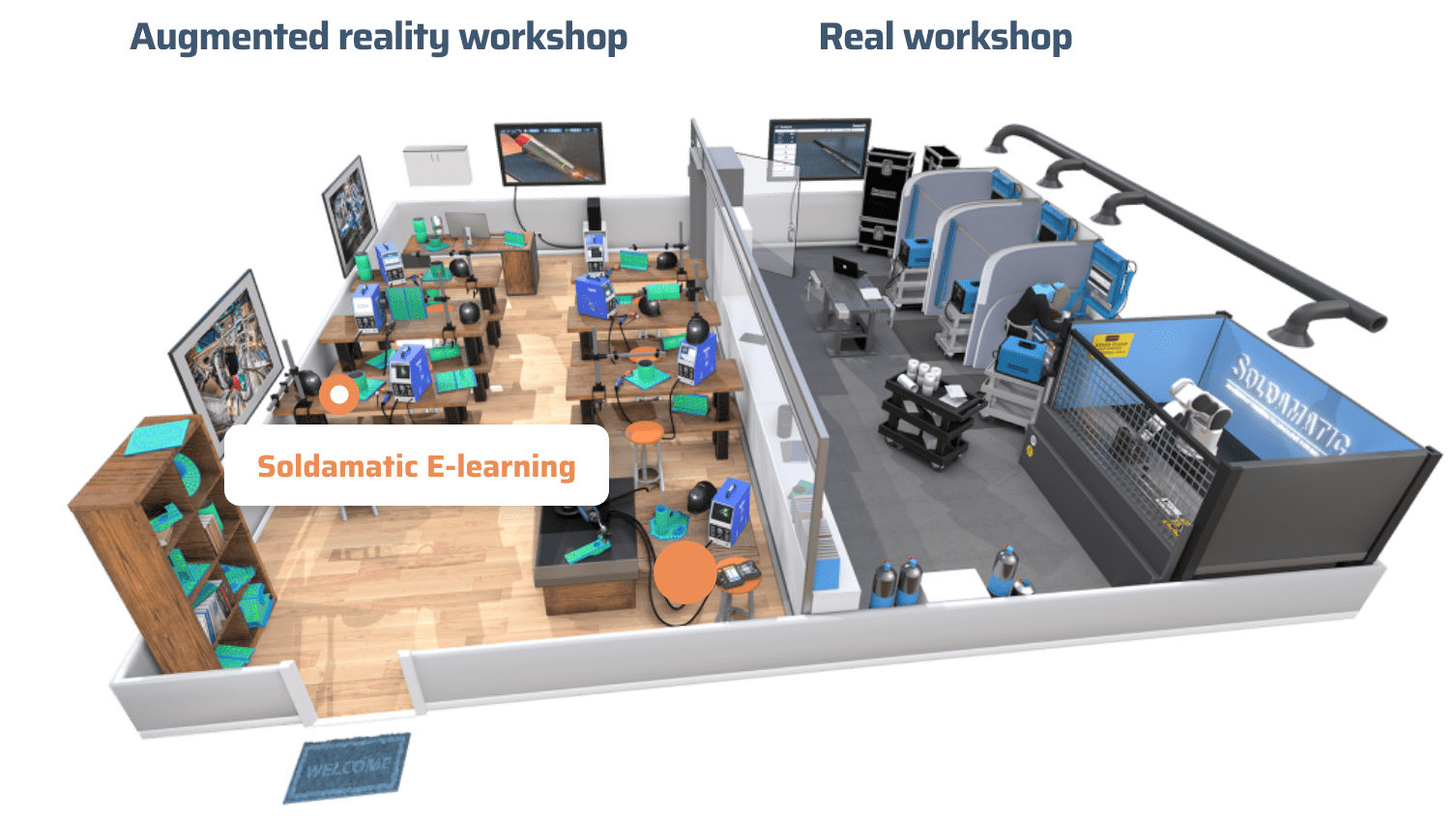 Student Simulator
It allows students to immerse themselves in simulation environments in which they can practice realistically without limitations, risks or associated costs, until they acquire the necessary skills and abilities to move to a real environment, being able to analyze at any time the results of each of the practices to emphasize the areas where they have more difficulties.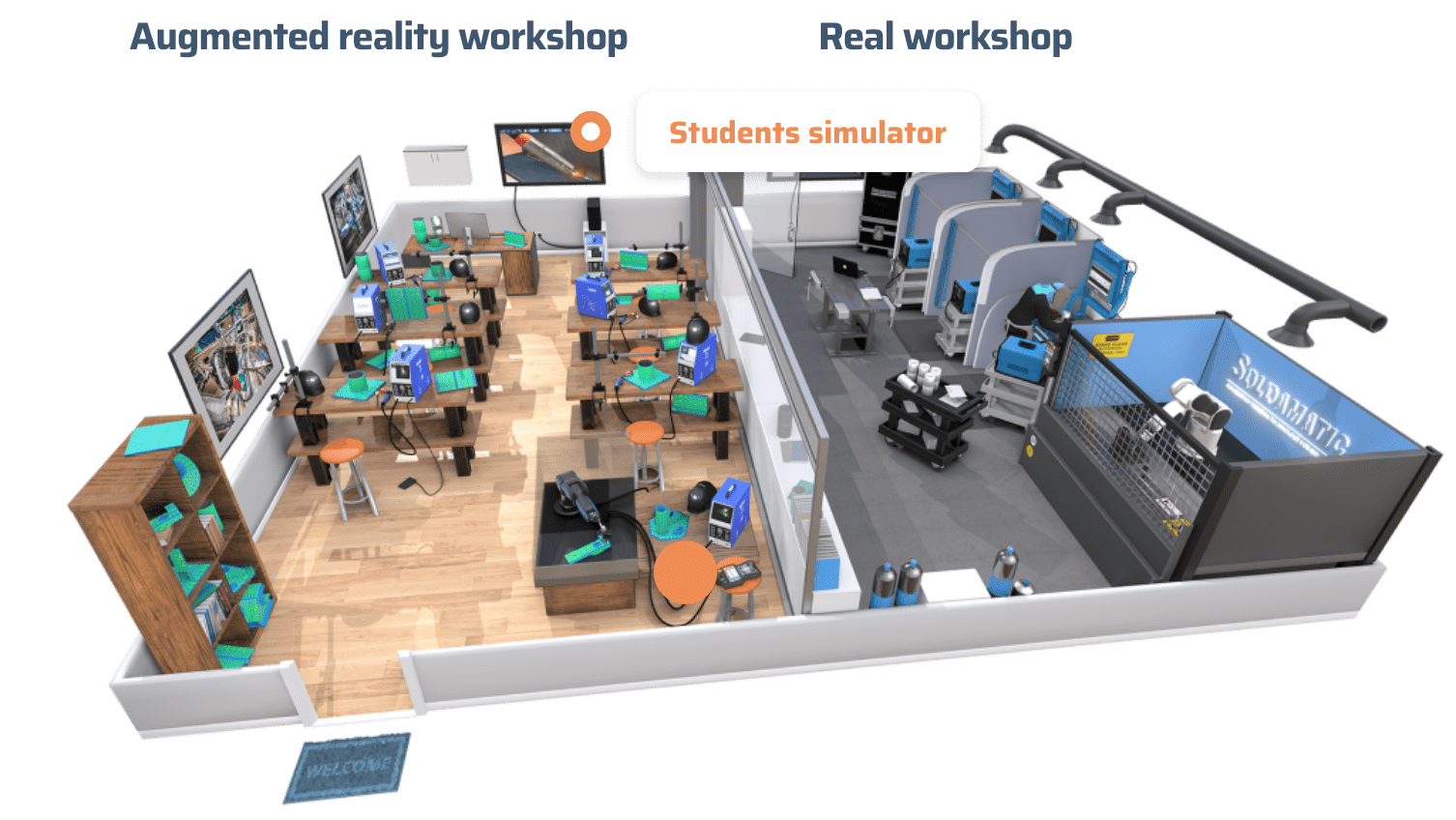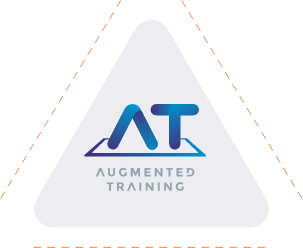 Augmented Reality to digitalize the vocational training


Soldamatic has an extensive catalogue of courses to train welders, which are adapted to the Augmented Training Methodology, ready to use with Soldamatic, and with which the teacher will be able to teach courses on electric arc welding procedures (MMA, MIG-MAG, and TIG), positions, thicknesses, and materials most common in the industry. These contents have been developed in association with some of the most prestigious experts in welding, such as the German Institute of Welding (DVS) and the Spanish Welding Association (CESOL), among others.
​
Furthermore, the teachers can generate their own course with the theory and practice on e-Learning, being available for all the students.
All the welding courses available are based on Seabery AT – AUGMENTED TRAINING Methodology and are equipped with:
THEORETICAL contents in digital format where the student can access through Soldamatic e-Learning.
SELF-EVALUATION QUESTIONNAIRES, which inform both the student and the teacher about the level of knowledge acquired.
PRACTICAL exercises specifically designed according to its welding procedure (WPS) and following the international standards, created to be executed in the Soldamatic training solution.
REAL WELDING TORCH
Real welding torches for GMAW (MIG/MAG) and FCAW, SMAW (MMA electrode), and GTAW (TIG) with electrode rod and filler rod.
Manufactured by Abicor Binzel in Germany.
WELDING HELMET
Real welding mask with lens, Fresnel system that creates a panoramic and enveloping vision.

TIG PEDAL
True amperage foot controller for GTAW/TIG welding (optional).

WELDING GLOVES
A pair of real welder's gloves to become proficient.

WELDING SIMULATOR
The analysis module provides each student with a profile in which progress, videos, and exercises are stored. The device is small and light (less than 40 cm high and 10 KG). Manufactured in Europe with ISO 9001 / 14001 certification. CE/FCC marked. Uses standard sockets. The front panel is based on the actual power supply, being able to modify voltage, amperage, gas, etc. Easy-to-use interface, translated into more than 33 languages.

WORKSTAND
Positioner for welding parts that can be leveled at different heights and positions.

FLIGHT CASE
Caja transportadore con cuatro ruedas en la parte inferior que permite el transporte cómodo y seguro del simulador. Due to its size, weight, and features, it can be checked as luggage on an airplane.

CLOUD OR ON-PREMISES SERVER
Soldamatic allows exercises and courses to be saved in a database in the cloud or a database in the cloud
a centralized database at the center.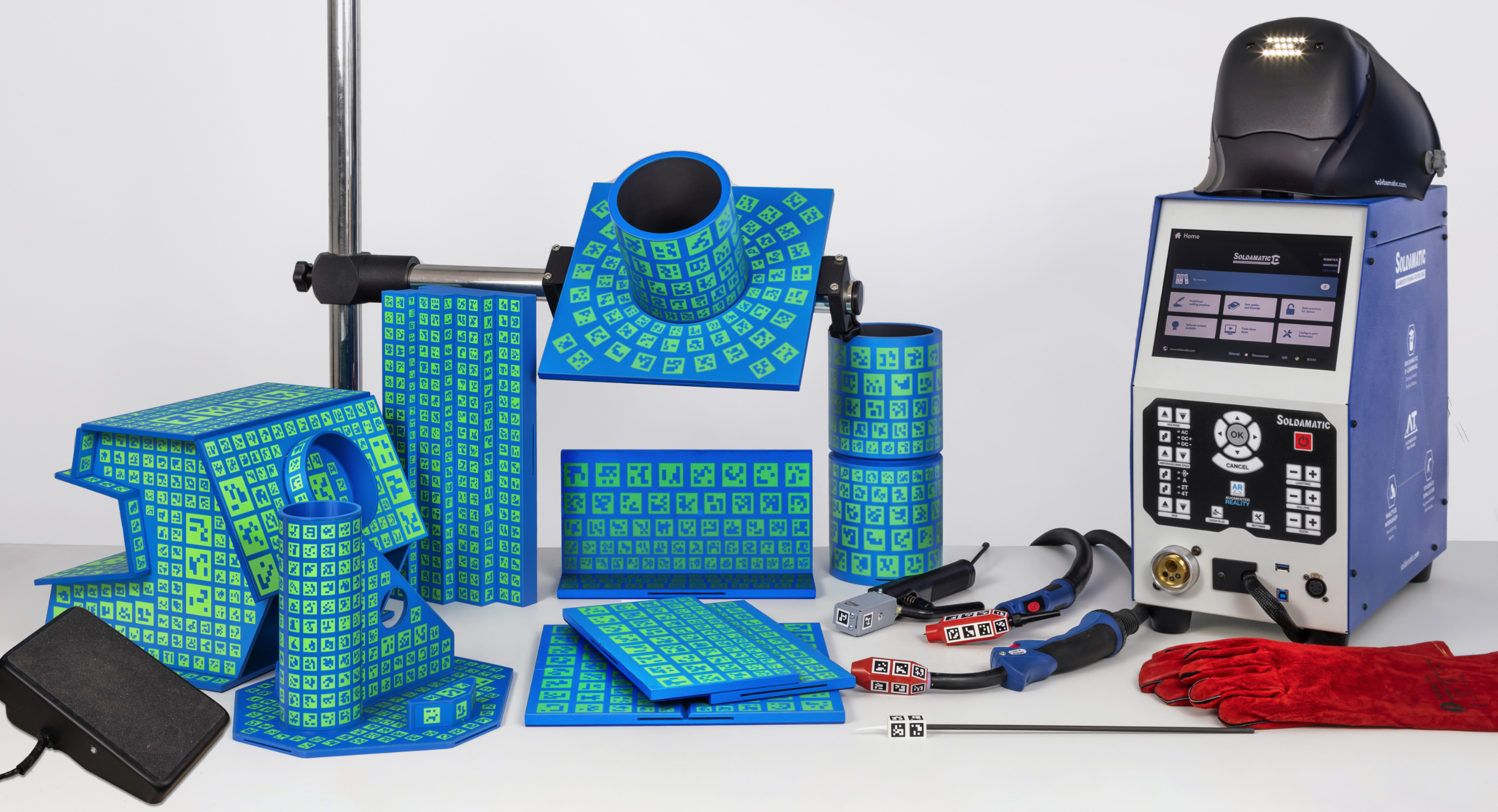 Welding joints
The extensive catalogue of welding joints incorporates Soldamatic covers from the most basic joints used in welding training and certification all around the world to the joints based on practices and industrial rules: shipbuilding, railway, automotive, and pipelines, among others. This allows training from beginner welders who are already starting to professional welders.
Furthermore, there is a possibility to develop customized joints to satisfy specific necessities with Augmented Reality functionalities.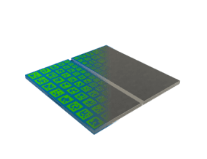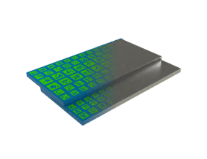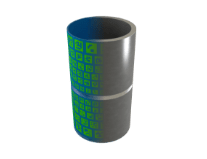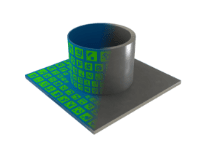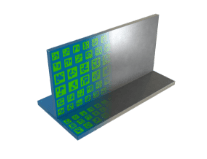 GMAW (MIG/MAG)
Carbon Steel
Positions: PB & PF
Foundational Complex Sequence
GMAW (MIG/MAG)
Carbon Steel
Positions: PB, PF, PD & PH
Heavy Industry Specific Practices
GMAW (MIG/MAG)
Carbon Steel
Positions: PB, PF, PD & PA
Automotive Chassis Assembly
GMAW (MIG/MAG) Pulsed Arc

Aluminium
Positions: PB
GMAW (MIG/MAG) Pulsed Arc

Aluminium
Positions: PA, PB, PC, PD, PE & PF
GMAW (MIG/MAG)
Carbon Steel
Positions: PF
Shipbuilding Backing Strip
GMAW (MIG/MAG)
Carbon Steel
Positions: PF
GMAW (MIG/MAG) & FCAW

Carbon Steel
Positions: 6G
Robotic Foundational "House"
GMAW (MIG/MAG)

Carbon Steel

Positions: PA
Robotic Foundational "Face"
GMAW (MIG/MAG)

Carbon Steel

Positions: PA
GMAW (MIG/MAG)
Carbon Steel
Positions: 6G
GMAW (MIG/MAG)
Carbon Steel
Positions: 5G
GMAW (MIG/MAG) Pulsed Arc

Aluminium
Positions: PA
GMAW (MIG/MAG) and GTAW Heliarc
Carbon Steel

Positions: PA
Robotic Foundational Assembly
GMAW (MIG/MAG)

Carbon Steel

Positions: PA